I can make your life easier as a web designer by turning your designs into fully functional Custom GenesisWP Theme
.01
By taking care of your development work this allows you more time to focus on designing (that thing you love).
.02
Steps your game up by giving your clients a custom built theme just for them.
.03
The client knows they have a team of experts working for them.
The Benefits
Saves you time and sanity from trying to figure out code.
Get a well-coded and user-friendly custom theme that was built to last.
Shorten your to-do list and complete more projects with that extra time.
Stop stress balling about the white screen of death and [enter tech thingy here].
Mobile Responsive GenesisWP site
Design beyond the limitations of a pre-made GenesisWP theme.
Tech support after the launch.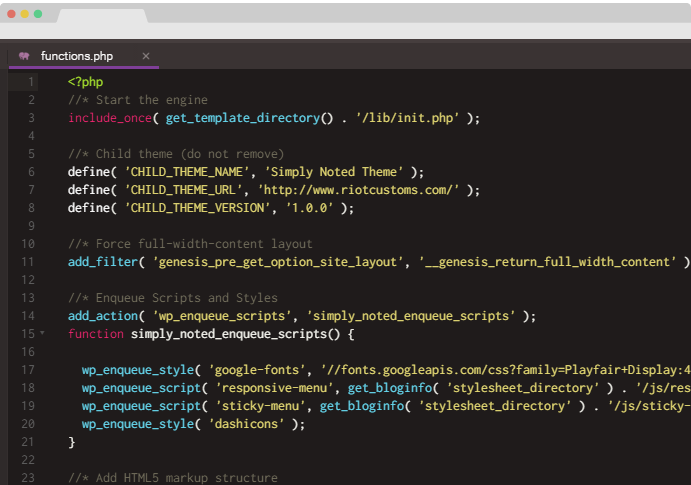 Take your design to the next level with a custom coded and functional theme. All of our WordPress themes are built on Genesis Framework because it's fantastic, kick-ass and has amazing search engine optimized (SEO). Since every project goals are different, the costs will vary based on those needs. I will create a custom package tailored to that project. Solutions may include but aren't limited to:
websites and/or blogs
eCommernce (WooCommerce and EDD)
crowdfunding
community/membership
online course
psd to genesis
We built all of our themes with the end user in mine. Creating not only with your design but a way for you to make quick changes with ease when they need to. 
Think of Riot Customs as your CTO (Cheif Technical Officer). We will recommend the best tools for hosting, plugin's etc to work on your site. 
The internet fits in our hand so why shouldn't your website? We code our themes to be mobile friendly so you can use them with the palm of your hand. 
WordPress gets better with time, like a good wine. So why not your site? We built our themes to be able to rock out with the latest WordPress update.
What packages do we offer?
Click the button below to check out our pricing and packages.
What Designers Are Saying
You were able to read my mind and think of things I hadn't and bring it all together! I've gotten numerous comments on how great it looks - Jennifer E
Ready to start?
Drop us a line right now!
Office Hours
Monday – Thursday: 11am to 7pm (PST)
Friday: By Appointment Only
Closed on Weekends, Holidays and my Birthday (9/11)
Next Availability for Dev
is April 2018